A suffusion made from the leaves and stems of the trin plant, a plant mutation that appeared at about the same time as the simes.
(Source:  Index card file.  First Channel)  Trin tea settles Rimon's stomach when he is in Need.  Laced with apricot nectar.
(Source:  Index card file.  House of Zeor)  Hugh finds Klyd, in his office, sipping this after Feleho incident.  Klyd tells Hugh it is good for him, will settle his stomach --- does have a soothing effect, hot, savory brew favored by simes.
(Source:  Index card file.  Unto Zeor, Forever)  Fine grounds of tea measured into glasses.  Boiling water from hot plate in office poured over them.  Then glass set into a holder.  A steadying ritual for simes.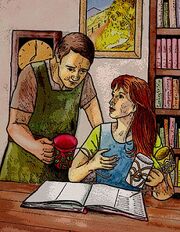 Sergi ambrov Keon designed and made Trin teaglass holders in metal and Risa (Tigue) ambrov Keon suggested he make them in silver and sold them to Tannen Darley.
From: Ambrov Keon, Ch 5. Sergi talking to Risa,  ' "I'm working on it," he replied, and took her to the metal shop. There he showed her six beautifully crafted teaglass holders in base metal. '
Ad blocker interference detected!
Wikia is a free-to-use site that makes money from advertising. We have a modified experience for viewers using ad blockers

Wikia is not accessible if you've made further modifications. Remove the custom ad blocker rule(s) and the page will load as expected.